We will have 6 hours of Lindy Hop in each level and also 4 hours of taster classes in the evenings with fun topics to choose from.
Classes will be held Friday, Saturday and Sunday.


---

The Schedule
---
Get the whole schedule including night time program and all as pdf:
Overall Schedule - PDF
---

Click on the buttons to download the calendar .ics files for your track.
---
Intermediate 1,2
Int. adv. 1,2
Advanced(1,2,+)
---

---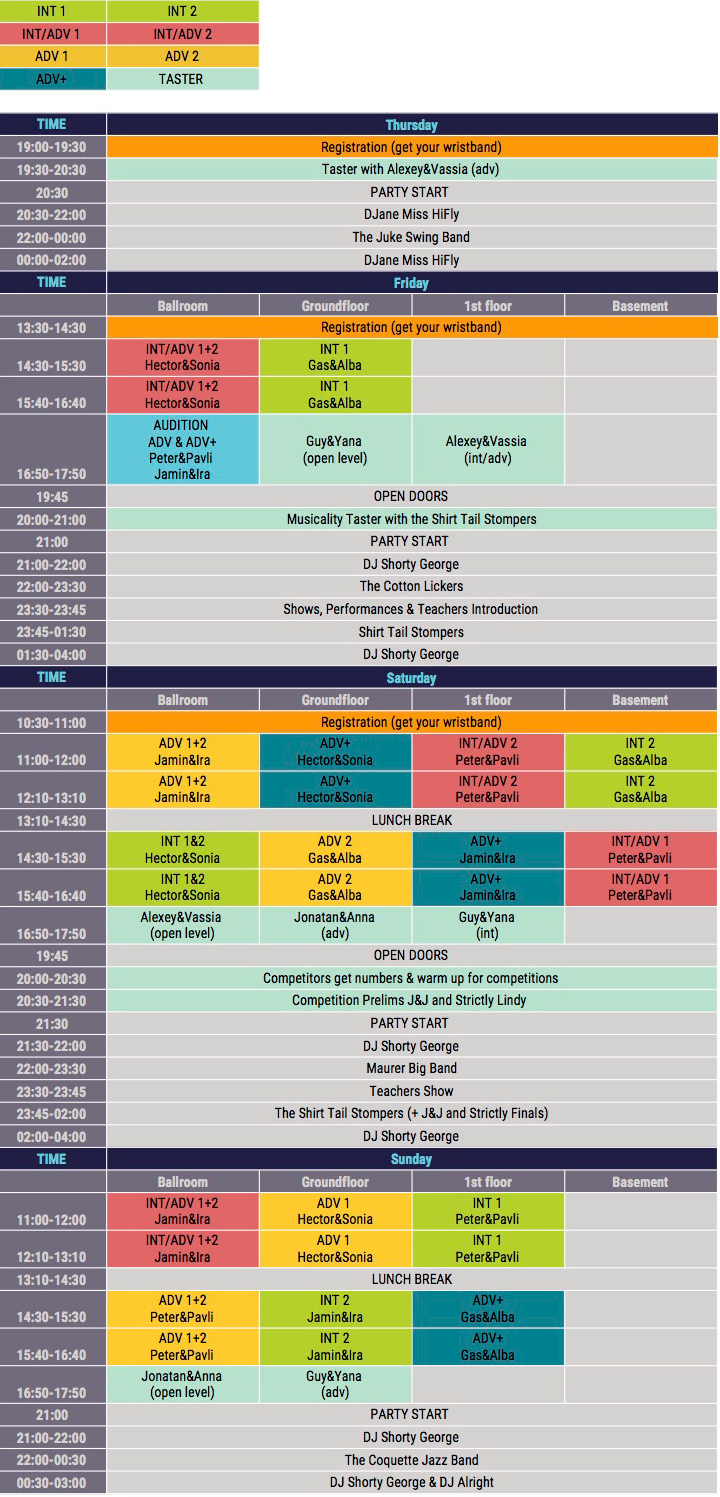 CONTENT OF TASTER CLASSES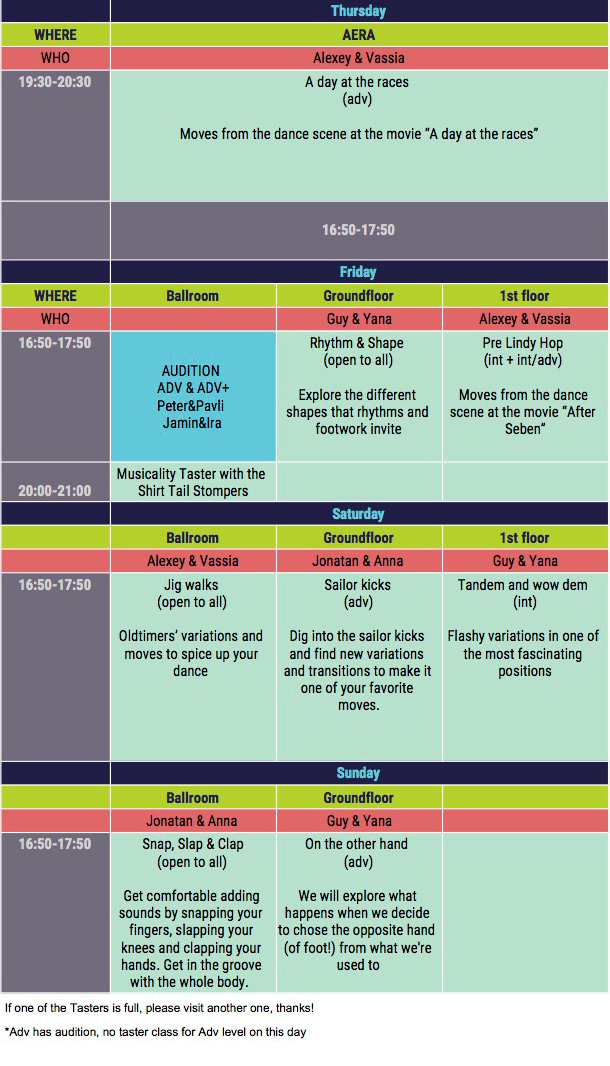 ---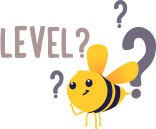 Which Level should I choose?
Beginner – Intermediate
You dance almost a year. You have ideas how to lead or follow. You are expected to be in control over both eight counts and six counts and be able to mix the two different basic steps without problems and you know how to lead or follow the differences between them. You are familiar with basics (Swing out, Lindy circle) and are eager to start widening your dance vocabulary.
Intermediate
You have been taking Lindy Hop classes at least for 1 year. Your dance connects to the music more and more, you have a good variety of figures. You go out for social dancing regularly and you already attended some Lindy Hop workshops. You can lead or follow clearly and should be able to manage slow tempo as well as faster one.
Intermediate – Advanced
You have been taking Lindy Hop classes at least for 2 years. You go out for social dancing regularly, so you know almost every dance event at your local scene and you've already been to international camps/workshops. You have no problem leading, following, making improvisation and dancing to fast music and you cannot count how many moves you know.
Advanced
You have been taking Lindy Hop classes at least for 3 years. You have your definitive dance style that makes your dance different. You go regularly to international camps and workshops in advance level and you go for social dancing every week. You are also skilled in some jazz steps.
ADVANCED +
You don't need a level description to know if you are in the Adv+ level 🙂 but to be sure: You are a seriously active lindy hopper, your facebook page (if you have one) is full of pictures of festivals you went to, you may also teach Lindy hop at your hometown and thinking of this dance not only as a hobby, but a big part of your life!

Please try to register in the appropriate level, fitting these descriptions.
There will be interesting material to learn in every level!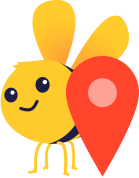 Class Locations

1
VHS VERANSTALTUNGSZENTRUM

Floridsdorf
Angerer Str. 14
1210 Wien
Take the subway:
U6 – Floridsdorf