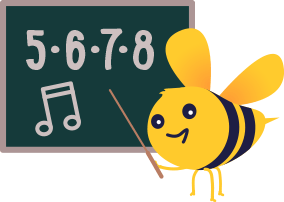 The festival's classes will be tought to you by: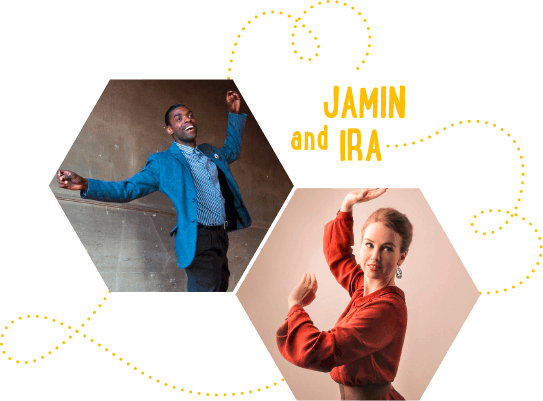 Ira Ishchuk
She started dancing Lindy Hop in 2006 and found that this is the best way to express yourself, have fun, meet people and discover the world. She first found her way into couple dancing as a Follower (with a capital F), but since then has found thrill in her own interpretation and improvisation. She prefers to dance for, and with, her partner rather than the audience and doesn't go for flashy dancing. She tries to follow as much as it is possible and find ways to have the most comfortable, joyful and unified dance: "Listen to the music, your partner, and your body. Follow these guidelines and you'll have the best dances ever!"
Jamin Jackson
Jamin Jackson is a professional dancer and entrepreneur. He has choreographed, performed and instructed for over 2 decades in the States and abroad. Jamin's swing style has been labeled as "the perfect blending of social dance and performance."
As a teacher, he is known for his focus on principles, a positive charismatic style, and his ability to help people cultivate a positive mental attitude in their personal development as human beings.
He has over 28,000 hours of combined training alone in the styles of Lindy Hop, Hip Hop, Musical Theater, Jazz.
Jamin has helped build and strengthen Lindy Hop communities in Spain, England, France, Switzerland, Germany, Sweden, Poland, Russia, Finland, S. Korea, Italy, Australia, New Zealand, Thailand, Greece, Singapore, Canada, Mexico and many new communities throughout the heartland of the United States.
He believes the world has yet to see the biggest days for Lindy Hop and continues his commitment to systematically expose and grow the dance in new territories around the globe on and off the internet.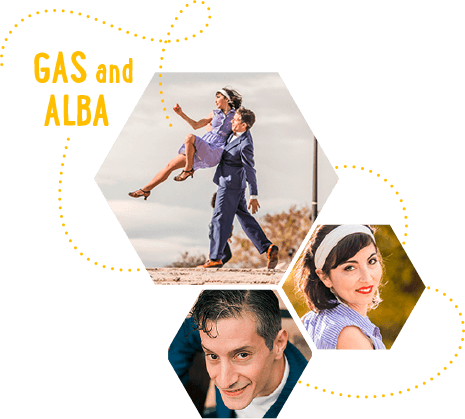 Alba Mengual
Alba started swing dancing because the swing people were exactly the crowd she was looking for in a new city, with the time the dancing on the dance floor led her to ecstasy, and she was really hooked when the jazz music found a big space in her heart. There was no way back then!. She loves all the different dance styles of the swing era: Lindy Hop, Blues, Balboa and Authentic Jazz, all of which she trains in and teaches regularly.
Gastón Fernández
Gastón "Gas" Fernández is a professional dancer and dance instructor, based in Madrid, Spain. He specializes in vintage dance styles including Lindy Hop, Charleston, authentic jazz, Balboa, Blues and Tango. As a former gymnast he is known in the swing dance community for his powerful acrobatics and aerials, while his background in Tango gives his blues style drama and strength, grounded in a sensitive connection with his partner. Gastón's passion for swing has taken him around the world, teaching from New York to Melbourne, he has taught in some of the best swing and blues camps in the world, like Herräng, Snowball, MSF, Lindy shock, Smokey feet, Berlin Blues Explotion, Noctourne Blues, and many more.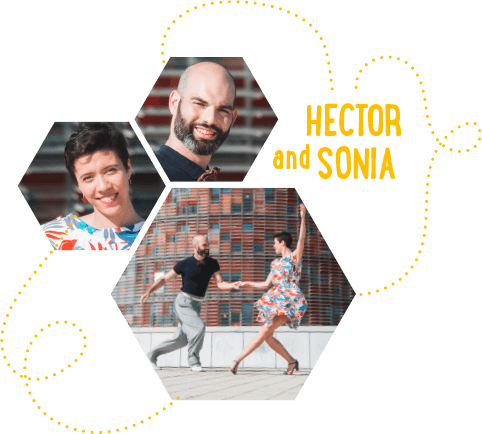 Hector & Sonia
Hector and Sonia, a professional Lindy Hop couple (Swing Dancers). They both teach Lindy Hop on a regular basis, every day in Barcelona and in recent years have been partly responsible for promoting the success of the Lindy Hop boom nationally. With a joint experience of over 31 years teaching (Sonia 19 years and Hector 12), they teach classes and give workshops in various dance schools in Barcelona and other cities, and right now are working in some of the most important Lindy Hop schools. They are continually involved in "spreading the Lindy Hop word", venturing on as many attractive projects as possible. Hector and Sonia are keen to demonstrate their love and enthusiasm for Lindy Hop through their work in the hope that others too can enjoy and learn the same.
Hector and Sonia teaching perspective is focused on the fundamental aspects of what they find interesting in Lindy Hop; bouncing, partner communication and quality of movement form the basis of their teaching. From their own creative standpoint, teaching "cool" moves or combinations is not the priority, although they use them as tools for enjoyment and as a way for students to remember what they have absorbed during the classes. Hector and Sonia always try to incorporate their own individual creativity into their teaching, often showing students their own originality and invention in steps and movements which they have developed. They do this to help the student on their own creative journey and inspiration. Feedback has shown Hector and Sonia that students enjoy clear examples to explain certain movements.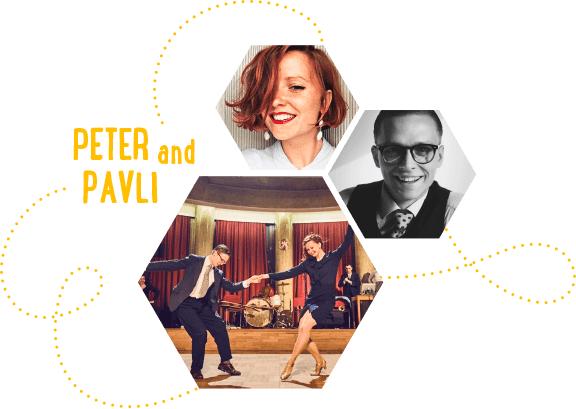 Peter & Pavli
They met in 2012 at a little jazz concert in Bratislava, both excited about swing dance and music, both living in area where there was not much swing dancing going on. Imagine the soul match!
Quickly they became close friends and started their dance partnership. Today Peter and Pavli are seen in finals of competitions all around the continent, teach more and more internationally and belong to exciting young talented teachers of Lindy Hop in Europe.
Typical for Pavli, coming from Czech Republic, is her red hair, lovely smile and decent elegant style spiced up with rocking swivels! Peter is a temperament Slovak with artistic soul, obsessed with jazz & swing music who is a real explosion of energy and creativity not only on on the dancing floor! (because he dances on the bus stop, at streets, in the shop – non stop!;))
Together their styles make inspiring contrast and harmony at once.
In 2013 they joined with three more Lindy hoppers, started a swing dance school in Brno and call themselves Swing Wings. During past two years Swing Wings built a team of 9 teachers and a beautiful scene of almost three hundred dancers, unique spirit and epic parties.
That spirit they love to bring to european communities too.

Our taster teachers are: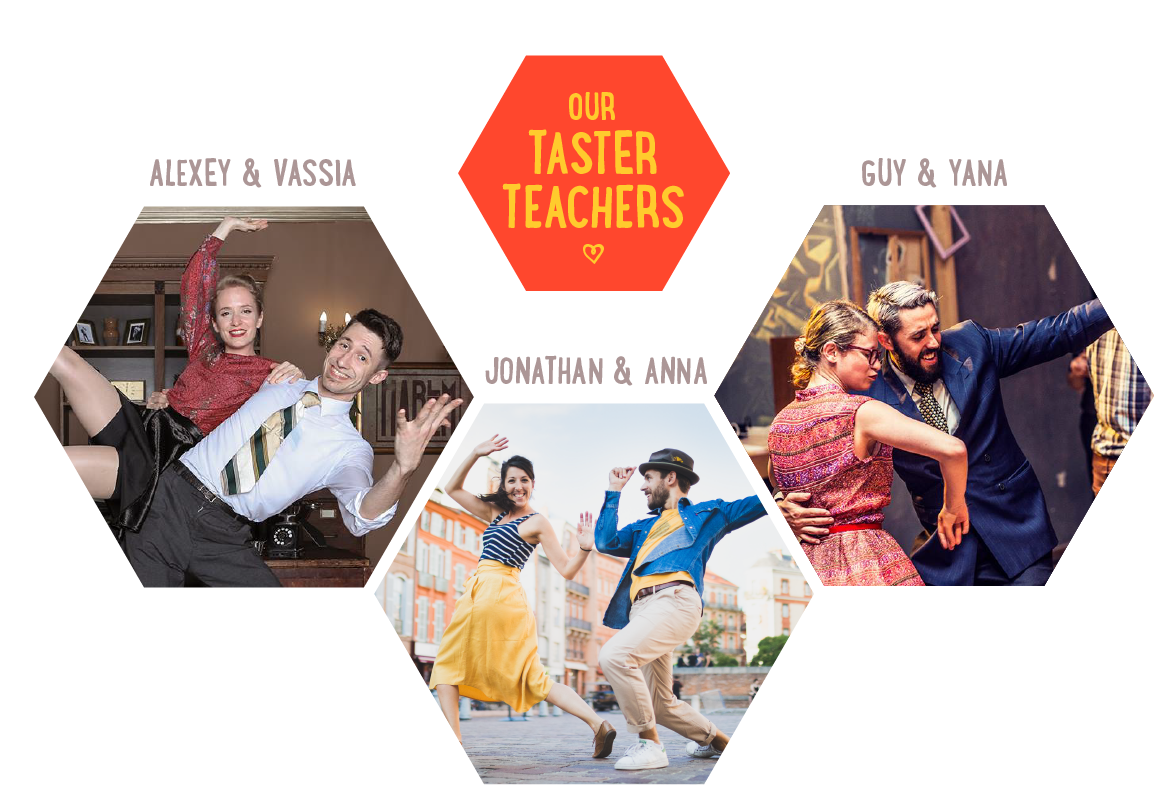 Alexey & Vassia
Alexey is an extremely enthusiastic dancer known not only for his big smiles, but also for his incredible energy on the dance floor. He's constantly exploring the roots of swing dance, looking back at the tradition while building up new ideas in a fun and clear way.
Vassia is a true lover of classic jazz music and the style of dancers at '30s-'40s aiming to spread the Lindy Hop across Greece, where she comes from. When she's not in her hometown Athens, she likes to travel all over the world in order to teach, social dance and get inspired by new dancers.
Jonatan & Anna
Anna fell in love with the powerful energy of Lindy Hop she admires for the strong communication between two partners, connected through and to music. She's a passionate dancer always eager to explore new teaching approaches and experiences.
To Jonatan Lindy Hop appealed strongly with it's music, rhythmical emphasize, energy and style of movement. After his first experience in Herräng he started travelling frequently to different events in order to social dance, teach, perform, compete or take classes.
Guy & Yana
After having been tricked into going to his first Lindy Hop class Guy instantly discovered how much he likes this dance. Since then he danced as much as he could, learning, traveling, evolving and finally also teaching. His classes are filled with enthusiasm and laughter.
What started as a hobby for her quickly became not only a passion, but also a way of life. Yana loves to dance and teach Lindy Hop always wanting to learn better teaching techniques in order to share her ideas with her students, breaking down complicated concepts for everyone to understand.